(Zechariah 13:7) Doesn't Zechariah Say That God Killed Jesus?
"Awake, O sword, against My Shepherd, and against the Man that is My Fellow, saith the LORD of hosts: smite the Shepherd, and the sheep shall be scattered: and I will turn Mine hand upon the little ones." (Zechariah 13:7)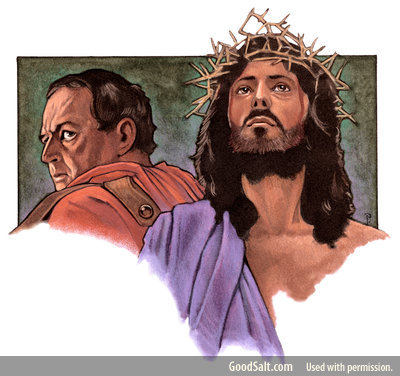 The most common understanding of this passage is that God Himself would smite (kill) His Shepherd and as a result, the sheep will be scattered.
Jesus, who said He is "the good Shepherd" (John 10:11), applies this prophecy to Himself:
"Then saith Jesus unto them (the disciples), All ye shall be offended because of Me this night: for it is written, I will smite the Shepherd, and the sheep (the disciples) of the flock shall be scattered abroad." (Matthew 26:31)
Jesus adds an extra understanding to the text by inserting the word "I" – "I will smite the Shepherd." This has led many to conclude that God is the One who killed Christ as a scapegoat in order to let us go free. However, since there's no record of God Himself descending to earth and nailing His Son to the cross, we would have to accuse God of mind-control as He caused the Jewish leaders and Roman soldiers to kill Jesus.
If you haven't read any other article concerning the character of God on this website, let it be known that throughout Scripture it speaks of God hardening hearts (Exodus 7:3), sending evil spirits (1 Samuel 16:14), destroying lives (Genesis 6:7; 1 Corinthians 3:17) and sending strong delusions (2 Thessalonians 2:11). These are all idiomatic Hebrew expressions where God is said to "do" that which He simply "permits" to be done. When God says, "I will smite the Shepherd" it is to be understood as one of these idiomatic expressions. "I will smite" simply means God will permit the Shepherd to be smitten by sinful man.
If this is true, how do we harmonize this with Zechariah saying it would be God's "sword" which will smite the Shepherd? Many times throughout Scripture God has said He would destroy certain nations. How did He do this? Again, God is not the cause of the destruction, but He did allow soldiers from other nations to come in and do the destruction. It is spoken as God doing it because He is the One who ultimately allows it to happen.
Listen to David's prayer when he says, "deliver my soul from the wicked, which is Thy sword" (Psalm 17:13). David defines God's sword in this circumstance as being the wicked, whom God was permitting to oppress David (verse 9). Likewise, God would permit wicked men to oppress the Shepherd as a sword.
During the time of Jesus' trial, Matthew tells us that "the chief priests, and the elders, and all the council" used the testimony of "false witnesses" against Him to secure His death sentence (Matthew 26:59, 60). In Proverbs 25:18 we read, "A man that beareth false witness against his neighbour is a maul, and a sword, and a sharp arrow."
"Smitten of God"?
Isaiah brings out this truth so clearly when He prophesied of the Messiah's death saying:
"Surely He hath borne our griefs, and carried our sorrows: yet we did esteem Him stricken, smitten of God, and afflicted. But He was wounded for our transgressions, He was bruised for our iniquities: the chastisement of our peace was upon Him; and with His stripes we are healed." (Isaiah 53:4, 5)
Let's look at this in another translation: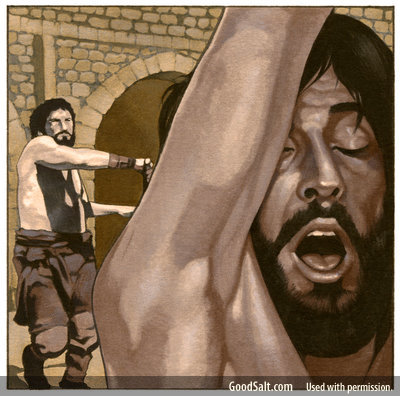 "However, it was our sicknesses that He Himself bore, And our pains that He carried; Yet we ourselves assumed that He had been afflicted, struck down by God, and humiliated." (Isaiah 53:4; New American Standard Bible)
Isaiah is prophesying that we would mistakenly believe that God is the One who killed Jesus instead of killing the sinner. It says we would think, or perceive, Him to be smitten (killed) by God, but the reality is He was smitten (killed) "because of our transgressions." The Kings James says, "for our transgressions." The Hebrew word translated "for" is מִן (min) which denotes "from" or "out of." Therefore, He was wounded "from" or "out of" our transgressions. Another way to read it is "He was wounded BY our transgressions", and not by God. Isaiah 53:6 magnifies this truth even further:
"All of us like sheep have wandered, each to His own way we have turned, and Jehovah hath caused to meet on Him, the punishment of us all." Isaiah 53:6 (Young's Literal Translation)
In our blindness we naturally read these texts as God's anger against us, but instead of punishing us, He places that punishment onto His Son instead. However, what if we read this another way? Can you see that the punishment laid upon Christ was "our punishment" in the sense that WE are the ones punishing Him?
Peter says that Jesus "Himself bore our sins in His own body on the tree, that we, having died to sins, might live for righteousness—by whose stripes you were healed" (1 Peter 2:24). Jesus allowed our sins to punish and kill Him. He bore our hostility towards Him; for when we hurled "insults at Him, He did not retaliate; when He suffered, He made no threats" (verse 23). Instead, He cried out, "Father, forgive them, for they do not know what they are doing" (Luke 23:34).
"It Pleased the LORD to Bruise Him"?
"Yet it pleased the Lord to bruise Him; He has put Him to grief. When You make His soul an offering for sin, He shall see His seed, He shall prolong His days, and the pleasure of the Lord shall prosper in His hand." (Isaiah 53:10)
Again, this should be interpreted as God giving Jesus over to be bruised by man. But why is He pleased to do this? The answer is in the phrase, "He shall see His seed." He is not pleased that His Son is to go through all this grief, but is pleased at the results this will accomplish. Christ will see His seed, or His spiritual offspring. His life and death will draw people to the Father:
"And I, if I be lifted up from the earth, will draw all men unto Me." (John 12:32)
"To wit, that God was in Christ, reconciling the world unto Himself, not imputing their trespasses unto them; and hath committed unto us the word of reconciliation." (2 Corinthians 5:19)
The author of the book of Hebrews says it was because of "the joy that was set before Him" that Christ "endured the cross, despising the shame, and is (now) set down at the right hand of the throne of God" (Hebrews 12:2). What is this "joy" that was set before Him? You and I!
This is all in fulfillment of Zechariah's prophecy that, after the Shepherd is smitten, "the sheep shall be scattered: and I will turn Mine hand upon the little ones" (Zechariah 13:7). Remember, Jesus refers to "the little ones" as His disciples who would be offended at Him and "be scattered abroad" (Matthew 26:31). Some look at the phrase, "I will turn Mine hand upon the little ones" as something negative, as if God would turn and pour out destructive wrath upon them. Look how it reads in the Contemporary English Version:
"The LORD All-Powerful said: My sword, wake up! Attack My shepherd and friend. Strike down the Shepherd! Scatter the little sheep, and I will destroy them."
However, it actually means that the LORD would turn His forgiving and protective hand upon them who were the great "joy" set before Him. Notice how John Gill describes this phrase:
" 'and I will turn my hand upon the little ones'; the same with the sheep, the disciples of Christ; yea, all that Christ died for, and to whom God is gracious for his sake; even all the little ones that believe in him; who are few in number, little in their own sight, and contemptible in the eyes of the world; pusillanimous, fearful, and of little faith, as the apostles of Christ were at the time he died: on these the Lord turned his hand; not his chastising hand … but his hand of grace and mercy, power and protection; which was upon the apostles in their ministrations, succeeding them to the conversion of sinners, and preserving them from their enemies; and all the elect are saved in consequence of the death of Christ, and redemption by him." (John's Gill's Exposition of the Bible)
In Adam Clarke's Commentary on the Whole Bible, he defines the phrase as meaning God would take care of His little flock:
" 'And I will turn mine hand upon the little ones' – I [God] will take care of the little flock, and preserve them from Jewish malice and Gentile persecution. And so this little flock was most wondrously preserved, and has been increasing from year to year from that time to the present day."
One of the conclusions that Matthew Henry comes to is that this phrase is to be understood as a promise:
"These words, 'I will turn my hand upon the little ones' may be understood … as a promise that God would gather Christ's scattered disciples together again, and he should give them the meeting in Galilee. Though the little ones among Christ's soldiers may be dispersed, they shall rally again; the lambs of his flock, though frightened by the beasts of prey, shall recover themselves, shall be gathered in his arms and laid in his bosom. Sometimes, when the sheep are scattered and lost in the wilderness, yet the little ones, which, it was feared, would be a prey (Num. 14:31), are brought in, are brought home, and God turns his hand upon them." (Matthew Henry's Commentary on the Whole Bible)
Christ Died to "Make an End of Sins"
In the 9th chapter of Daniel, we read a prophecy concerning the coming Messiah:
"Seventy weeks are determined upon thy people and upon thy holy city, to finish the transgression, to make an end of sins, and to make reconciliation for iniquity, and to bring in everlasting righteousness, and to seal up the vision and prophecy, and to anoint the Most Holy." (Daniel 9:24)
Some commentators believe that Gabriel is telling Daniel that his people (the Jews) better shape up before the Messiah gets here, and they have a certain time to finish transgressing and to make an end of their sinning. This kind of teaching only promotes fear and force, which is not the way God works. Deadlines are an application of force to achieve an outcome for the one who controls the time. The pressure of a deadline which is combined with the threat of punishment or death is actually psychological abuse. Many refer to "a time of probation" which is a set time God gives us in order to behave, and if we are not good by the deadline, then we all "better watch out" because Jesus is coming to town!
However, properly understood, we are the ones who close our own probation. God is forever merciful (Psalm 100:5; 107:1; 136:1; Ezra 3:11; Jeremiah 33:11), and so it is mankind who ends God's mercy by not accepting it. Once you become so hardened in your heart not to accept God's free forgiveness, there's nothing more that God can do, and thus you close the door of opportunity. Paul calls this condition in man "a reprobate mind" and "having their conscience seared with a hot iron" (Romans 1:28; 1 Timothy 4:2).
Others say that when the Messiah came, He finished the transgression and made an end of sins by dying on the cross, thus satisfying God's justice and wrath. However, it is spoken of in the sense of mankind's rebellion (transgression) and sin coming to completeness, or to its fulness.
Paul reminds us that we all have inherited a natural hatred towards God and His Son through sin when he wrote, "the carnal mind is enmity (hostile) against God: for it is not subject (submissive) to the Law of God, neither indeed can be" (Romans 8:7). John tells us that "sin is the transgression of the Law" (1 John 3:4); therefore, committing sin is the revelation of our hatred towards God and His Son.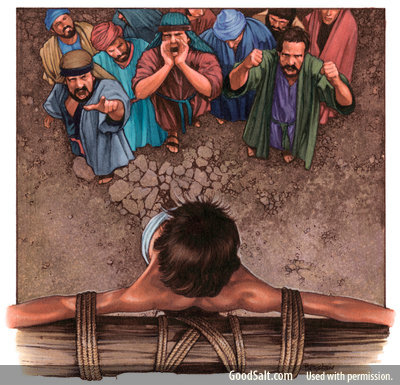 This hatred was manifested in all its fulness when man murdered Christ. Mankind's rebellion and sin (hatred towards God) was "finished" and "ended" (came to its fullness) when we condemned and murdered the Son of God.
The prophecy foretold that man's rebellion and sins will be brought to the full "to make reconciliation [or, atonement] for iniquity", and this will "bring in everlasting righteousness." How does this work?
"Moreover the Law entered (privately into the heart/mind), that the offence might abound. But where sin abounded, grace did much more abound." (Romans 5:20)
God permits our sins to abound (or come to the full) in order for us to be convicted of that sin. He does not do this to condemn us, but to reveal to us the proper diagnosis of our disease, so that we in turn seek His grace. Christ came into the world to reveal the true character of God our Father (John 17:4). This character is the opposite of our character and what we expected God to be like (Isaiah 55:8, 9; John 1:10, 11), and this caused our sin to abound by retaliating back and killing Christ, thus bringing the rebellion and the sinfulness of mankind to its fullness. We hated His purity and holiness of character because it was a constant rebuke to our selfishness and corruption.
When we realize that God gave His Son over to us and allowed Him to suffer the deadly results of our rebellion and hatred towards Him, we begin to fully see His love for us.
"For God so loved the world, that He gave His only begotten Son, that whosoever believeth in Him should not perish, but have everlasting life." (John 3:16)
In seeing our rebellion and sin come to its fulness in the murder of the Son of God, we are to be convicted at the heart, turn to Him in repentance and accept His everlasting forgiveness so we may be changed and live unto His "everlasting righteousness."
"For what the Law could not do, in that it was weak through the flesh, God sending His own Son in the likeness of sinful flesh, and for sin, condemned sin in the flesh [He exposed our sin and hatred of Him]: That the righteousness of the Law might be fulfilled in us, who walk not after the flesh, but after the Spirit." (Romans 8:3, 4)
"Why Hast Thou Forsaken Me?"
Upon the cross we hear Jesus' cry: "Eli, Eli, lama sabachthani? that is to say, My God, My God, why hast Thou forsaken Me?" (Matthew 27:46). Did God really forsake Jesus, or was Jesus experiencing what the unbelieving sinner experiences when trials and tribulations come? When Jesus said these words, He was quoting from the 22nd chapter of the book of Psalms: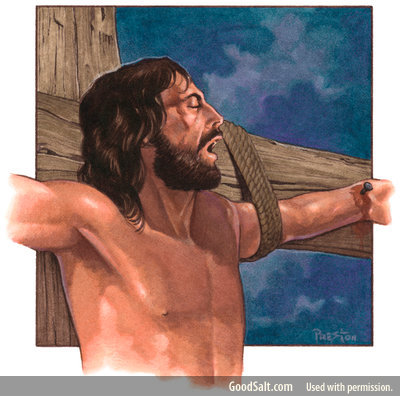 "My God, my God, why hast thou forsaken me? why art thou so far from helping me, and from the words of my roaring? O my God, I cry in the daytime, but thou hearest not; and in the night season, and am not silent." (Psalm 22:1, 2)
This is the mental anguish that crushes the unbelieving sinner who has lost their true identity as being a child of God and therefore does not trust in God's everlasting free forgiveness and grace. Sin has hidden (clouded) the merciful face of God, causing them to believe He has turned away His face and abandoned them (Isaiah 59:2), when He is right there by their side as can be seen from reading verse 24 of the same chapter in Psalm 22:
"For He (God) hath not despised nor abhorred the affliction of the afflicted; neither hath He hid His face from Him; but when He cried unto Him, He heard." (Psalm 22:24)
It wasn't God who turned His face and rejected Christ, it was us!
"He (Christ) is despised and rejected by men, a Man of sorrows and acquainted with grief. And we hid, as it were, our faces from Him; He was despised, and we did not esteem Him." (Isaiah 53:3)
God's silence at the cross causes us to perceive God is the One who's abandoning Christ, but the sorrow comes directly out of the rejection He is facing from men. It is because we hid our faces from Him that He was pierced with sorrow. In the collective rejection of Christ, in that moment of realization that there was no one on the planet that wanted Him, He experienced in His heart the reality that: "There is no one who understands; there is no one who seeks God" (Roman 3:11).
When the human race cried out, "Take Him away! Take Him away! Crucify Him!" (John 19:15), the heavenly Father does not protest. He allows us to project this onto Him. How? In His silence. The only pulse Jesus can feel is the collective human pulse of rejection. The voice of humanity, aided by Satan and his angels, drowned out the voice of God. God allowed us to sit on His throne to judge and condemn His Son. Why did He let us do this? That our offense might abound.
"These things you have done, and I kept silent; you thought that I was altogether like you; but I will rebuke you, and set them in order before your eyes." (Psalm 50:21)
This is how God delivered up His Son. He allowed us to drown out His voice. He did not retaliate. He did not speak but let us have our own way.
"He (God) who did not spare His own Son, but delivered Him up for us all, how shall He not with Him also freely give us all things?" (Romans 8:32)
Again, to whom did God deliver up His beloved Son? When the chief priests and Roman soldiers came to take Jesus away, He said, "When I was with you daily in the temple, you did not try to seize Me. But this is your hour, and the power of darkness" (Luke 22:53). God delivered Christ over to us, and within 24 hours we put Him to death!
In Hebrews 2:9 we read that "Jesus … by the grace of God should taste death for every man." Christ felt the anguish which the sinner will feel when the power of darkness overshadows the face of God. In that darkness Christ could not sense the abiding presence of His Father, just as the wicked in the end will not be able to sense the Father's presence due to their disbelief in His everlasting mercy. They, as did Christ, will sense they are forsaken. And as we wrongly "did esteem Him stricken, smitten of God, and afflicted", the wicked in the end will wrongly believe they are "stricken, smitten of God, and afflicted", when in fact it is only the disease of sin running its deadly course (James 1:14, 15).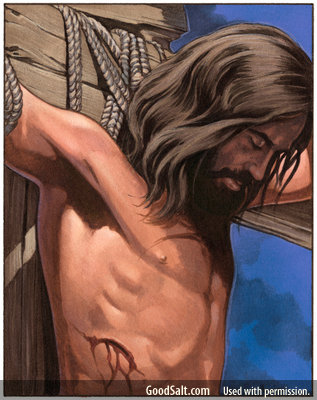 The collective rejection of mankind weighed upon Christ so heavily that He felt shut out from His Father. However, Jesus prevailed in believing that His Father would not ultimately forsake Him but raise Him from the dead. Jesus shattered the darkness when He prayed: "Father, into Your hands I commit My spirit" (Luke 23:46). The faith of Jesus overcomes all of our false ideas about the character of God. He was tempted to believe God had abandoned Him, which is what sin causes every man to believe when times get tough, but His perfect faith did not surrender to this lie. This is why all who believe must possess "the faith of Christ" and must live by that same faith:
"I am crucified with Christ: nevertheless I live; yet not I, but Christ liveth in me: and the life which I now live in the flesh I live by the faith of the Son of God, who loved me, and gave Himself for me." (Galatians 2:20)